New Zealand Māori (Pioneer) Battalion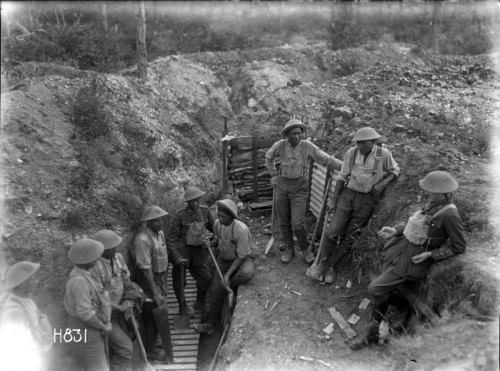 New Zealand Pioneer Battalion diggers. Photo courtesy of Koa Kean, whānau collection.
Pioneers were not front-line fighting units but a military labour force trained and organised to work on engineering duties, digging trenches, building roads and railways, and taking on any other logistical tasks deemed necessary. This was essential and dangerous work that was often carried out under fire.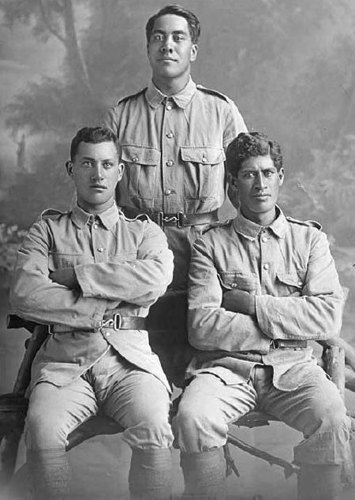 Photo courtesy of Nik Randle, whānau research collection.
"3 Privates, PITAMA of the NZ Māori Pioneer Battalion. Wiremu Ata, Tiaka, & Te Kirikaihau"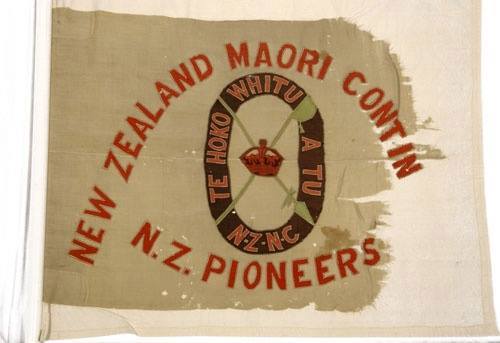 The First World War New Zealand Māori Pioneer Battalion Flag:Tāhiwi flag. No known copyright.
The Pioneer Battalion Flag: Tāhiwi flag is attributed to Captain Pirimi Tāhiwi, a member of the New Zealand Māori (Pioneer) Battalion. In the centre of the flag is a taiaha crossed by a tewhatewha (the spear and long-handled axe-shaped club are both traditional weapons). The wording in the centre says, 'Te Hoko Whitu a Tu' (the war party of Tūmatauenga, the god of war) N-Z-N-C (New Zealand Native Contingent). Around the outside it says 'New Zealand Maori Contin[gent], N.Z. Pioneers'.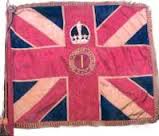 The King's Colour. No known copyright.
The King's Colour was awarded to the New Zealand (Māori) Pioneer Battalion by King George V in 1919. As the battalion had already been disbanded by the time it was awarded, it was not consecrated, presented or paraded by the battalion. In 1939 it was presented to the minister of native affairs and from there it was sent to the Dominion Museum. In 1988 the last commander of the 28th (Māori) Battalion, James Henare, searched for it. Once recovered, it was embroidered with the number and title of the Pioneer Battalion. In 1993 it was consecrated and paraded in front of members of the 28th (Māori) Battalion Association.