Back to Memoirs
James Anglem Te Au – or 'Big Jim' as he was known – was the son of Pene Matene and Emma Te Au, née Russell, and mokopuna of Ratimira Te Au and Ramuri, and Teone and Koriana Russell, née Edmonds. He was born in Colac Bay on 16 June 1894.
James worked as a Fisherman prior to the war. He enlisted for service in October 1915, and served in the 4th Reinforcements, Māori Contingent. James was in the army less than a year before contracting pneumonia and being discharged as a result of his illness.
Like so many stories of returning soldiers, James found talk of the war distressing on his return and he shared few of his experiences with his whānau.
James' daughter, Patricia Koriana Louisa Te Au, says she was unable to talk to her father about the war.
He just cried and cried. Every time you mentioned the war he'd cry. Whether it was because he'd lost a lot in there, or what, I don't know.
However, James did teach Patricia songs such as the Māori Battalion song, 'Coming in on a Wing and a Prayer' and he also taught his daughter how to knit.
On his return, James often went away mutton-birding, on the Tītī Islands. Patricia remembers the shop that used to finance the expeditions.
They [the shop] used to give them all their food and that sort of thing, and then they had to give the shopkeepers so many mutton birds when they came back.
As well as mutton-birding for bartering purposes, Patricia says James also made a profit from his tītī haul.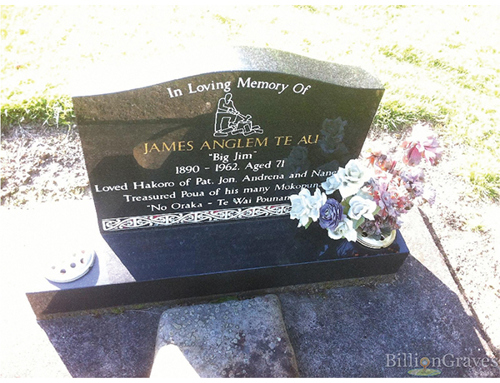 James Te Au's gravestone.

He'd go up the railway line in Bluff and he'd sell them. They didn't have buckets in those days, they had those pōhā. He'd go up and sell so many of them, and then further up the line he'd be selling a few more.
James was a very tall man, which earned him the nickname 'Big Jim'. He was always spotless and very well dressed, recalls Patricia.
James met Patricia's mother, Blanche May Hughes, in Tuatapere, Southland.
Mum's mother, Bertha Hughes, [née Flint] and her stepfather were working out there and I think Dad must have been working out there too. Blanche had contracted polio when she was two and at 21 underwent an operation to have one of her legs amputated. Blanche had been in and out of sanatoriums... all her childhood, virtually.
Three of James and Blanche's tamariki, including Patricia, were born in Invercargill. Patricia spent her first five years in Invercargill before moving to Outram, west of Dunedin.
When James and Blanche separated, Patricia and other members of the whānau went to live in an orphanage in Dunedin.
Growing up in Dunedin, Patricia says she didn't see much of her father.
He used to come up to the orphanage to see us. I was in the orphanage for four years. He'd come up periodically, but I went down to Invercargill when I was 11. I moved back down there with an aunty and had quite a lot to do with Dad then. He would take me to the pictures and the Queens [Park] Gardens quite a lot, I loved it. And the little museum at the Gardens, there were a lot of artefacts there that belonged to our whānau. We would spend hours there.
James suffered from poor health, including tuberculosis, on his return home from war. He died on 4 October 1962, when Patricia was 22. Her mother, Blanche, lived in Dunedin until her death in 2001.
For immediate whānau members wishing to have their own copy of the full video, please contact Whakapapa Ngāi Tahu on 0800 KAI TAHU (0800 524 8248).
View service records