Back to Memoirs
Brothers, nephews, uncles and fighters
Patterson and Norton Whānau
The ties between the Patterson whānau and Norton whānau are strong. The Nortons had been whaling at Te Awaiti in the Marlborough Sounds since Patrick Norton arrived in June 1831. The Patterson and Norton family were connected by marriage in 1883 when Patrick and Tangitu's granddaughter, Harriet Norton, married Englishman, Matthew Patterson.

The five Patterson brothers who served in World War One were the nephews of the four Norton brothers and both sides of
the family were quick to put their hand up and volunteer for service. Both families also paid a high price for their patriotism with only one of the Patterson brothers and none of the Norton brothers returning home without injury.
Patterson Whānau
The Patterson Brothers. From left:William, Donald, and Colin.
Thomas Colin Campbell Patterson (Colin Patterson) signed up in August 1914, almost immediately after the declaration of war. Colin kept a fairly detailed diary of his service years including his experiences of leaving Aotearoa New Zealand, his training in Egypt and his war service in Gallipoli, including landing at Anzac Cove.
Colin wrote of how excited he was when the bullets whizzed overhead and he'd write home about what was going to happen to the 'poor old Turks'. There was a four day gap when he didn't write much except saying nothing much happened. In those four days the Turks made a huge push to drive the Anzacs off Gallipoli and it was following that event that Colin's writing took on a more serious tone.
Colin was promoted to sergeant which at the time, was 'pretty unusual' for a young Māori soldier. However after being ordered to remain in charge of the horses, and subsequently refusing the order, he reverted to the ranks. Whānau suspect he refused the order because he wanted to be with his mates and not be left behind with the horses. Colin was just 25 years old when he was shot between the eyes on 30 May 1915. He died of wounds received at Walker's Ridge and is buried at the Canterbury Regiment cemetery beside Anzac Cove. Research undertaken by whānau and handwritten letters suggest he was shot while on outpost duty, holding Number One Outpost to the North of the Anzac landing stage. This outpost was infamous as a 'hot place to be' with soldiers being replaced every 24 hours.
Alan Patterson (Ling) enlisted alongside his younger brother Thomas and they embarked on the same troop ship. Alan was in the Canterbury Mounted Rifles, taking their own horses with them to the battlefield. It was Alan that broke the news to his parents that his brother Colin had been killed at Gallipoli. After serving 274 days overseas Alan was sent home suffering from poor health including multiple bouts of pleurisy, ulcers and cellulitis. He died in Picton in 1934.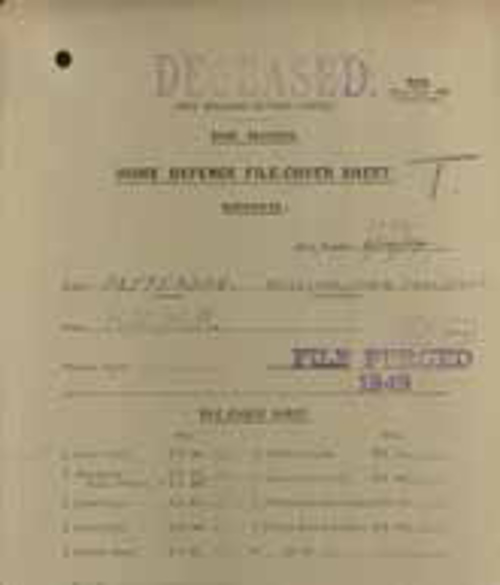 William Patterson's service record
Donald Paul Campbell Patterson was the fifth son of Matthew Campbell Patterson and his wife, Harriet Columbia Norton. Prior to enlisting on 22 August 1916, Donald worked as a Farrier. Six months after enlisting, Donald embarked from Wellington aboard the Aparima, disembarking at Plymouth, England in early May. Donald's trade as a Farrier saw him attached to the Veterinary Corps and he served in France until receiving a wound to his eye. No longer fit for service, he was discharged on 3 February 1918 and repatriated home. In December that same year, Donald died of influenza that was most likely exacerbated by the injuries he had received.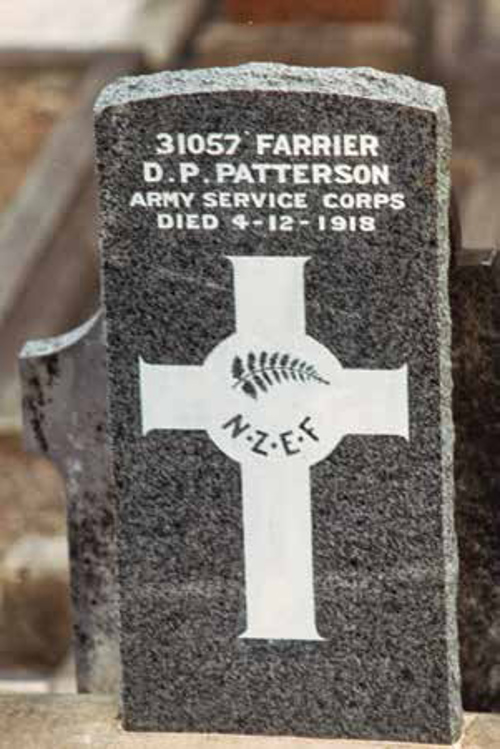 Donald Paul Campbell Patterson's gravestone.
Norton Whānau

The Norton Brothers. From left: Richard (Dick), Harry (Henry), Wilfred (Manny) and Timothy Norton.
Four of the Norton brothers, Richard (Dick), Harry, Timothy and Wilfred (Manuel/Manny), enlisted to fight on the same day, 6 October 1916, and as a consequence ended up with consecutive army numbers 40236 – 40239. The brothers remained together in the Canterbury Infantry Regiment, embarking in April 1917 for Plymouth, England.
The brothers all served on the Western European Front with Timothy receiving wounds while on active service which resulted in his discharge. Timothy died in Wellington in 1941.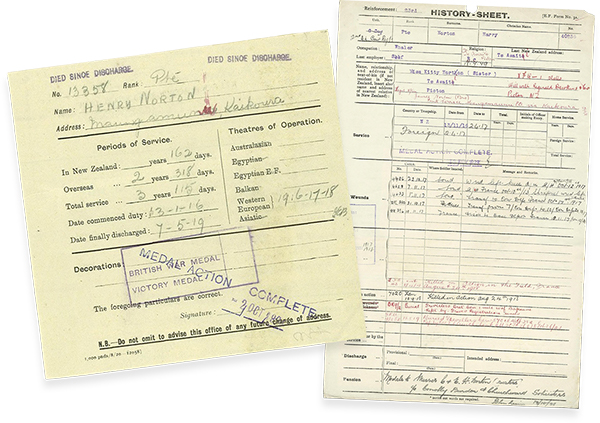 Norton Brothers' service records.
Harry Norton was killed in action on 24 August 1918 in Bapuame, France and he is buried in Grevillers British Cemetery, Pas-de-Calais, France.
Despite a gunshot wound to his shoulder and suffering from various bouts of trench fever, influenza and mumps, Wilfred was not discharged until 1920 following his period of engagement.
Richard Norton also suffered gunshot wounds. He was sent back to join his company once he was fully recovered and returned home in August 1919, after being discharged from service following his period of engagement. During his time away, Dick sent many postcards and letters home to whānau recounting his experiences, including this in 1918...
I have quite recovered from my wounds and am going up the line to join my company and try my luck again. I hope it still holds good and that I come through it alright. I don't think the war will last much longer now for we have only 'old Jerry' to beat, and he is well beaten and he knows it. So I hope it will be over soon.
Give my love to everyone in the Bay and tell them I am still strong and hope to see you all again soon. So will close with heaps of love and wishing you all a merry xmas and a happy new year.
Good luck at home. Love Dick xxxx
For immediate whānau members wishing to have their own copy of the full video, please contact Whakapapa Ngāi Tahu on 0800 KAI TAHU (0800 524 8248).
View service records