Back to Memoirs
Lasting effects remembered
Poihipi Wereta
Poihipi Te Hua Wereta was born at Saltwater Creek, near Tuahiwi on 14 January 1894. Poihipi was the son of Wiremu Hikutawatawa o Te Rangi Wereta and Ngakapu Wereta, née Aperahama. He was brought up in Waitotara, near Whanganui, and later in Tuahiwi (near Christchurch) by his grandmother, Reita Takaru Wereta, née Huriwai.
In May 1915, aged just 21 years old, Poihipi enlisted for the war along with his older brother, Maketu (Mack) Wereta.
When the Whanganui Native Reinforcements, of which he was part of, left for training in Takapuna on 1 July 1915, The Wanganui Chronicle reported that the day before departure the men were addressed by the Deputy Mayor, Mr G. Spriggens, whose remarks were interpreted by Mr A. Takarangi.
There was a good attendance of the public, who expressed appreciation of the good physique of the native volunteers. Enthusiasm was the key note of the proceedings. Hearty cheers were given and the company was dismissed.
Following training, Poihipi embarked from Wellington in September 1915, landing in Suez, Egypt in October that year. Poihipi spent nearly five years fighting overseas in both Africa and Europe.
In June 1917, he was wounded in action at the Battle of Messines but later that year he returned to the front. Poihipi contracted tuberculosis while in the trenches and was sent to England to convalesce before returning home aboard the Ruahine in December 1918.
On his return to Aotearoa, Poihipi went to live in Tuahiwi where he met and married Meri Matehaere Wereta, née Ruru. Poi's brother Mack also survived the war, returning to Waitotara where he went on to raise a whānau.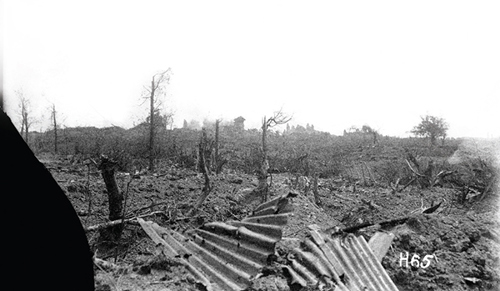 Messines battlefield, Belgium, during World War I, with shells bursting in the distance.
Royal New Zealand Returned and Services' Association: New Zealand official negatives, World War 1914-1918. Ref: 1/2-012776-G.
Alexander Turnbull Library, Wellington, New Zealand. /records/22802881.

During the war years and before marrying Poihipi, Meri lived at Port Levy where she would run euchre evenings in the Māori Hall at Tutehuarewa to raise money to send socks and scarves to their soldiers.
Following their marriage, the couple lived in a tent in Tuahiwi opposite the cemetery. The tent had wooden floorboards and all the cooking was done outside. Poihipi had wanted to build Meri a home in Tuahiwi but her roots were in Port Levy and she didn't want to let those connections go.
It seems that Poihipi's time spent fighting in World War One had a lasting effect on him. Meri told her daughter, Meri Crofts that on his return Poihipi was quite isolated.
He'd have these mood swings and he didn't discuss too much about in the trenches, but it had a big impact on their life.
Poihipi and Meri had seven children, losing three, a girl and twins early on. One of Poihipi and Meri's sons was called Walton Hurimoana Tainui Wereta, named after the hospital, Walton on Thames No. 2 New Zealand General Hospital, where Poihipi recuperated before returning home from the war.
Later during World War Two, Poihipi joined the Royal New Zealand Airforce (RNZAF) serving at RNZAF Base Wigram in Christchurch from 1941 to 1944.
Poihipi died on 11 June 1965 and is buried in the Tuahiwi cemetery.
For immediate whānau members wishing to have their own copy of the full video, please contact Whakapapa Ngāi Tahu on 0800 KAI TAHU (0800 524 8248).
View service records