Back to Memoirs
Fighting through illness
Robert Flutey
Robert Brown Flutey was one of nine children born to George and Evangeline Flutey, née Condon. He was born on 6 September 1892, in Mangatainoka, a small settlement in the Tararua District of Aotearoa, New Zealand. Robert was a first cousin to Arthur George Flutey – their respective fathers – George and Charles Flutey, were brothers.

Robert was working on the Pringle Farm in Silverstream, Wellington, when he was gripped by the wave of imperial fervour that swept across the country. Hungry for adventure, he enlisted in the Army in August 1915 and completed his training at Trentham Camp. He departed for Suez with the Canterbury Mounted Rifles, 7th Reinforcements in October that same year.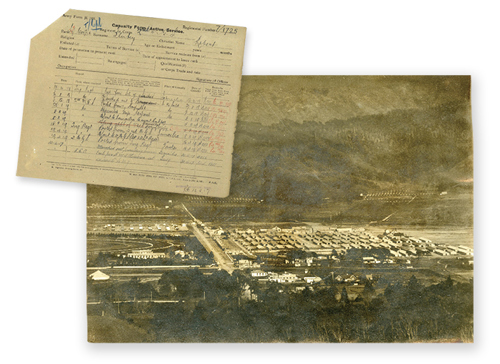 Trentham Camp, 1916. Courtesy of Archives New Zealand. Reference: PC4 1600/1916..

Throughout his service, Robert suffered terribly from malaria and frequently convalesced in Cairo and Heliopolis hospitals. It was a testament to Robert's fortitude that despite his illness, he served four years fighting in Egypt and on the Eastern Front. Robert served his final year of service as a Lance Corporal with the 2nd New Zealand Machine Gun Squadron.

Robert's granddaughter, Diane Tyler, clearly recalls what her mother told her about her grandfather.
My Dad never spoke much about Grandad being in the war, but thankfully Mum did share her memories of Grandad Robert. Thanks to the Discharged Soldiers Settlement Act, Grandad was able to secure a farm and 60 dairy cows up the Rahui Valley.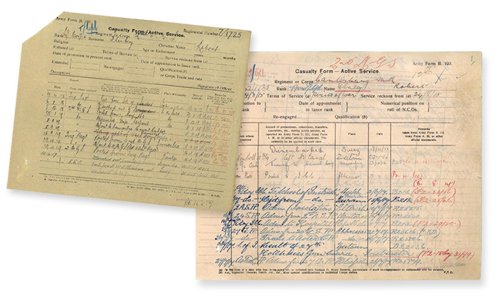 Robert Flutey's Casualty Forms
Crown lands and private land bought by the Crown were subdivided and loans were granted for development, or for the purchase of existing properties, for returning soldiers. Diane's grandmother, Charlotte Duggan, was 18 years old when she met Robert. She was housekeeping on a neighboring farm. They married soon after and had four daughters – Dina, Jessie, Mabel, Ngaire (Diane's mother) and a son called Jack.
Diane says her grandfather liked guns and often went pig hunting. "He was a loner and enjoyed the solitude of the bush. Even though he was a small chap, he was a machine gunner in the army. He would keep his pig hunting guns in the house. Grandma didn't like the guns in the house, it worried her a lot.
"Times got tough for my grandparents, what with the depression and all that. They managed to pay back most of the loan, but eventually had to walk off the land after selling the cows etc. Our grandparents separated not long after walking off the farm. Nannie never remarried but Grandad did. Grandad's only other pastime was cricket which he enjoyed immensely and by all accounts, was pretty good at it."
According to Diane, her grandfather's hard life eventually wore him down. Robert suffered a fatal heart attack during a game of cricket in 1947.
For immediate whānau members wishing to have their own copy of the full video, please contact Whakapapa Ngāi Tahu on 0800 KAI TAHU (0800 524 8248).
View service records