Back to Memoirs
Only one returned
The Hunter boys
Imagine five sons and brothers all heading off to war and only one of them coming home.
This tragedy was a reality for Joseph and Jane Hunter, née Goodwillie, of Riverton in Southland. One by one each of their sons, William, John, Joseph, Harry and David joined the New Zealand Expeditionary Force to fight in World War One.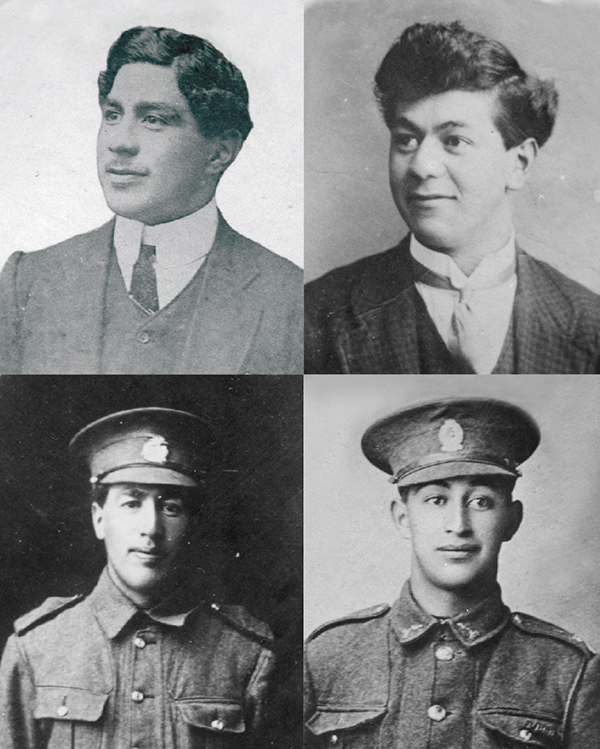 From top left (clockwise): David, Harry, William, and Joseph Hunter.

Joseph was the first Hunter brother to volunteer. Working for the New Zealand Government's Lands and Survey Department, Joseph enlisted in December 1914. He embarked for Europe aboard the Tahiti, with 2,200 other members of the 3rd New Zealand Reinforcements.

On the Gallipoli Peninsula coastline, Joseph found himself jumping from a heavily laden barge, struggling through shallow water and quickly drawing up under the shelter of the ridges which overhung the beach. Miraculously Joseph survived the 25 April landing, however a bullet graze to his chin required him to be hospitalised. Three days later, he returned to duty, joining up once again with the Otago Infantry Battalion. On 10 August, Joseph was reported as missing in action and a subsequent Board of Inquiry found that he was killed in action on 8 August 1915, in Chunuk Bair, Dardanelles. Corporal Joseph Walter Hunter is remembered at Chunuk Bair (New Zealand) Memorial, Chunuk Bair Cemetery, Gallipoli, Turkey.

David Hunter was a sawmiller for Mr D. Jenkins in Riverton when he too enlisted in December, 1914. Joining the Otago Mounted Rifles, and just two months after his brother Joseph, David departed Wellington also bound for Egypt. Embarking for the Dardanelles on 3 August, David was reported missing on 22 August 1915. Findings of a Board of Inquiry held in Mudros on 6 November confirmed David was killed in action in Gallipoli on 2 August 1915, just 11 days after Joseph. Trooper David Hunter is buried in Quinn's Post Cemetery, Anzac, Turkey.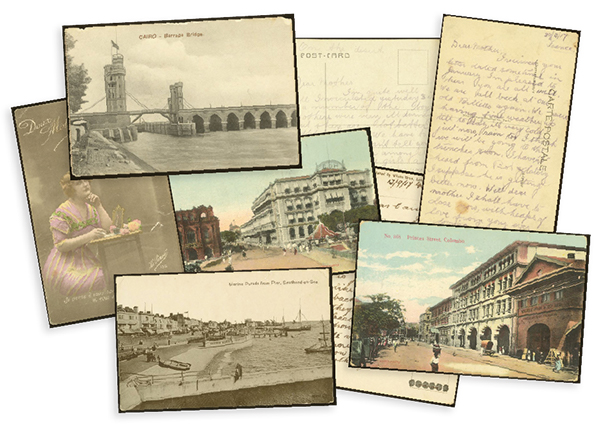 Postcards sent home.
Harry Hunter was working for Post and Telegraph as a Linesman before enlisting in January 1917. He joined the Otago Regiment as a machine gunner and embarked for Plymouth via Cape Town aboard the Waitemata on 24 July 1917. After disembarking at Plymouth in late September, Harry was posted to the Western Front, where he joined The 1st Battalion with other members of the Otago Regiment.

On 8 December 1917, Harry was reported missing. Yet again, a Board of Inquiry was required to investigate the disappearance of a Hunter boy. The Board found that on 3 December 1917, Harry was killed in action in Walker Camp, Ypres. Private Harry Hunter is remembered at Buttes New British Cemetery (New Zealand) Memorial, Polygon Wood, Belgium.

William Hunter, a Labourer for Mr W. Templeton from Riverton, enlisted in October, 1916 and embarked four months later aboard the aptly named Troopship Aparima. After spending a month in Devonport, Plymouth, William was transferred to France where he distinguished himself on the battle- fields of Étaples. His bravery resulted in him being awarded the Military Medal for Acts of Gallantry and a special mention in dispatches by Field Marshall Sir Douglas Haig. Sadly, just one month after receiving the Military Medal, William was killed in action in the Battle of Le Cateau on 23 October 1918. Private William Gray Hunter is buried in Romeries Communal Cemetery Extension, Nord, France.

Sergeant John Hunter was the only son to return home from the battlefields of Europe. John enlisted in October 1915, joining The 9th Reinforcements with fellow soldiers of the Otago Infantry Battalion. By the following February, John was in the Suez where he spent two months training before embarking for France. In December 1917, John received the Military Medal for Acts of Gallantry in the Field, when he led a team of stretcher bearers into 'no man's land' to rescue wounded soldiers in France. He had been shot through the ball of his foot and bones were broken. Ten months later, John was to be classified as unfit for duty and placed on the Nominal Roll. John, unlike his four brothers, did get to return to New Zealand, embarking aboard the Ruahine in December 1918, arriving in Auckland on 25 January 1919. He was finally discharged from service 11 months later. John returned to Riverton, later marrying and with his wife and young daughter, spent some time staffing the lighthouse on Rarotoka Island (Centre Island) off the Riverton Coast.
Joseph Hunter's great nieces Vera Gleeson and Muriel Naomi Te Huikau Johnstone treasure two memorial plaques in their care, issued after World War One to the next of kin of all British and Empire service personnel who were killed in the war. The plaques were cast in bronze and became popularly known as 'Dead Man's Penny'.

In Riverton Aparima's Museum and Heritage Centre Te Hikoi Southern Journey, a permanent and hauntingly realistic display has been created named Hunters' Trench in honour of the Hunter boys who never made it home from war but who made such a great sacrifice for their country.
PŌUA JOHN AND TĀUA MARION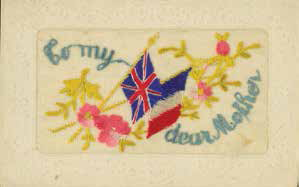 The Stirlings and the Hunters were Kāti Mamoe, Kāi Tahu, friends and whānau.

The boys of both families enjoyed friendly rivalry, especially when swimming rivers, racing, rowing, and singing among other activities.

John William James Stirling served in World War One with the Hunter Boys. He enlisted 9 February 1916 and served for three years and 118 days in Egypt and Western Europe.
After the war, John married Marion Rachel Hunter – a sister of the Hunter Boys – in Riverton in 1922.

John and Marion's grandaughters, Vera Gleeson and Muriel Naomi Te Huikau Johnstone spent many of their formative years visiting, staying and living with their Tāua and Pōua.
They say their Pōua spoke very little about the war and was guarded if he did offer stories or information.

'He was a good cook. On the boat carrying soldiers he had cooked up huge pots of rice pudding when a stormy sea blew out a window or porthole, shattering glass into the rice. He was commanded to still serve it! Much time was spent trying to pick bits out – luckily no one suffered.'
For immediate whānau members wishing to have their own copy of the full video, please contact Whakapapa Ngāi Tahu on 0800 KAI TAHU (0800 524 8248).
View service records