Back to Memoirs
Four served, only 3 returned home
The Miller Brothers
The four Miller brothers, Thomas, Peter, David and George all served in World War One. The brothers were from a family of ten children from John Miller (Tiaki Mira) and Ema Stevens, and mokopuna of both Piraurau White and Maraea Mouat, who was a daughter of Motoitoi from Taumutu.
The brothers were all born at Pūrākanui in Otago and grew up on the whānau farm there. Te Reo Māori was spoken at home and all four brothers enlisted in the New Zealand Māori (Pioneer) Battalion at different times between 1914-1918.
Thomas Rakakino (Rangakino), born on 6 November 1884, was the eldest of the brothers. Thomas enlisted as Thomas Richard Gilbert Miller and he joined the New Zealand Māori (Pioneer) Battalion as part of the New Zealand Army Reserve later in the war in June 1918, aged 34.
Growing up, Thomas was beaten at school for speaking Māori and punished at home for speaking English. Although as an adult his English was spoken in a very elegant manner akin to an Oxford or Cambridge accent, his grasp on some verbs was lacking, for example he would ask his children to "key the door" or "broom the floor". Despite his children asking, his experience at school as a young man meant he did not pass on Te Reo Māori to his children.
Thomas moved to a combined family property in Ōamaru after marrying Mary Ann Yorston Matches in 1915 at Waiareka Pā in Tōtara. His daughter Mary Lillian Miller still lives at the Wansbeck Street address.
He was reluctant to enlist as early as his brothers Peter, David and George did, due to his marriage and birth of his son William Gilbert Rendall Miller in July 1916.
During his time at the Waiouru training camp, a flu swept through the soldiers. Although Thomas was described as a strong man in both will and stature, he told his daughter later that he was sure he would die of disease.
The men around him were 'dropping like flies' in his words, and soldiers were taking bets on who would die next.
By the time Thomas had recovered sufficiently, the war had entered the final stages and no more enlisted men were sent to Europe.
Peter William, born 27 August 1891, enlisted early into the Māori (Pioneer) Battalion and was training near Wellington in 1915. He was in France by at least February 1917, as he had sent a postcard photo of himself to his brother Thomas.
Along with his brothers, Thomas and Arthur, Peter was said to be one of the three Miller brother's courting women from the Matches family. He often wrote to Jemima Matches, sister of his brother Thomas's wife Mary, and the family back home assumed he would marry her upon his return from the war.
Peter took part in the Battle of Passchendaele and his unit was one of those tasked with taking Bellevue Spur. Heavy rain and sucking mud meant British artillery units assigned with softening German defences on the ridge fired too long, leaving the defences intact and leading to the heaviest loss of life in a single day for New Zealand.
Along with more than 100 other New Zealand soldiers caught in mud, barbed wire and German fire, Peter sadly died on 12 October, 1917.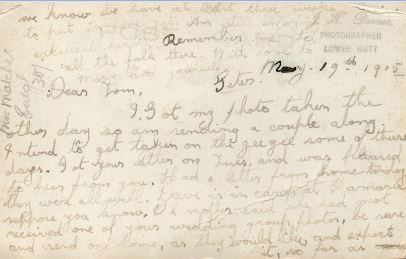 Peter's Postcard home from Wellington (Lower Hutt) 19 May, 1915.
Dear Tom, I got my photo taken the other day so am sending a couple along. I intend to get taken on the geegee [horse] some of these days. I got your letter on Tues and was pleased to hear from you. Had a letter from home today, they were all well. Dave in camp at Ōamaru, suppose you know. Our mother said she had not received one of your wedding group photos. Be nice and send one home, as they would like and expect it. As far as we know we have at least three weeks to put in here yet. Am still enjoying excellent health. Remember me to all the folk there. With love to Mary and yourself. -- Peter.
Born on 28 November 1893, David Mamaru along with his brother George and Peter, enlisted with the Māori (Pioneer) Battalion early in the war. He departed New Zealand shores on 18 September 1915 from Wellington and disembarked at Suez, Egypt 26 October 1915. David was in France by May 1916 and he also sent a postcard home from brother George and himself, to his oldest brother Thomas on 4 May 1916.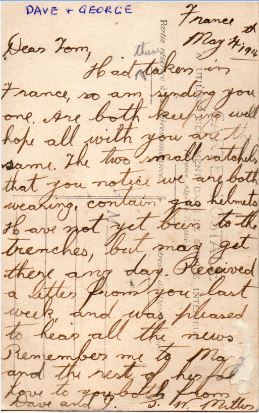 David's postcard home from France 4 May, 1916.
Dear Tom, Had these taken in France, so am sending you one. Both keeping well, hope all with you are the same. The two small satchels that you notice we are both wearing, contain gas helmets. We have not yet been to the trenches, but may get there any day. Received a letter from you last week and was pleased to hear all the news. Remember me to Mary and the rest of her folk. Love to you both from Dave and G [George] -- D.M.Miller
Serving to war's end, David returned home and took up a job working as a railway guard based in Dunedin with his wife Margaret.
He was described as a friendly, good natured man who could often be abrupt and "straight up and down" in his views and not known for showing much in the way of physical affection. During his post-war life, David would often visit his brother Thomas in Ōamaru, the two would regularly go on salmon fishing trips.
His son David Mamaru Miller II would go on to become a Sergeant in the Māori Battalion on WWII.
David died in Dunedin on 23 January 1965.
George, the youngest of the Miller brothers who served in World War One, he was born on 20 January 1897. He also enlisted earlier in the war with his older brothers David and Peter. George was in France with David by May 1916.
George also served until war's end but he was badly affected by his PTSD and was said to be a changed man upon his return from the battlefields of Europe.
His dour nature led his niece Mary Miller to ask his brother David why her uncle George was "always so grumpy?". According to Mary, David's response was;
"He's not really grumpy, that's just how he copes with it."
George lived in Dunedin with his wife Agnes Florence after the war. He died in 1959.
View service records