Back to Memoirs
A fight for acknowledgement
William Rickus
William Tuna Pohio Rickus was the son of Hana née Pohio and Tiemi Rickus. He was born in Timaru on 26 February 1892. On 20 October 1914, William enlisted to fight in World War One and departed for Suez, Egypt, aboard the Warrimoo the following February. Over the next four and a half years, he went on to fight in Gallipoli, Egypt and the Western European Front.
In December 1915, the Timaru Herald published a letter that Private William Rickus had sent from Gallipoli to his mother in Temuka.
'We are not exactly downhearted, but we need a rest pretty bad,' was the matter-of-fact assessment William gave his mother.
Writing to his mother two years later from 'somewhere' in Belgium on 20 March 1917, William explained the weather had been terrible and snow had been a permanent fixture for two months. However, they were 'over the worst, and looking forward to summer'.
William returned home to New Zealand with a variable conduct sheet. Over the course of two years, he had regularly provoked his superiors, and they responded with increasingly severe punishments. On 30 November 1915, William committed his first military blunder: he was absent from the early-morning parade. He then refused an order and used 'disgusting language' towards a superior officer, for which he was disciplined with a deduction of two days' pay. Then, just prior to Christmas 1916, his pay was suspended for a second time for the loss of equipment.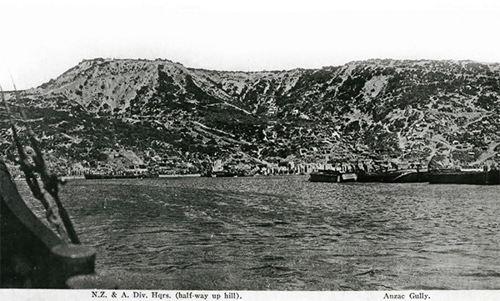 Anzac Cove during summer, 1915. Courtesy of Archives New Zealand Te Rua Mahara o te Kāwanatanga. AAME W5603 Box 118/ 11/17/28.
Later in 1917, William was disciplined with 14 days 'Field Punishment No. 2' for being absent without leave from 12pm to 11pm on 12 April. Field Punishment No. 2 was the slightly less draconian version of the two field punishments in that the soldier 'shall not be liable to be attached to a fixed object', unlike Field Punishment No. 1.
The situation escalated in May 1917. William was disciplined for striking a superior officer in the execution of his duty and smoking in billets containing straw, for which he received two punishments. He was sentenced to one year's imprisonment with hard labour, to be served from the 10 August 1918, and was also given 14 days of Field Punishment No. 1.
However, these comments contrast significantly with an earlier letter sent to Allen. Godley had written that all the units that fought alongside the Māori Contingent 'speak most highly of the individual bravery and courage of the men, and of their gallantry, during the fight'.
His youngest daughter, Gertrude Warnes, remembers her father and Uncle Harry Pohio used to talk to each other about the war.
"We were very young and didn't really understand then. My sister, Wene Macleod, and I thought they were talking about movies at that time, because they were talking about my Dad being on night duty up on Chunuk Bair. He got up to stretch his legs, and he walked to the edge of the hill, and just around the hill he ran into a Turk. That's when they fought and fought and fought each other, and my Dad's partner who was on duty with him came out and shot him. We always remember Uncle Harry talking about it", 'My bloody hand was shaking so much. I didn't know who I was going to hit. I aimed and fired'.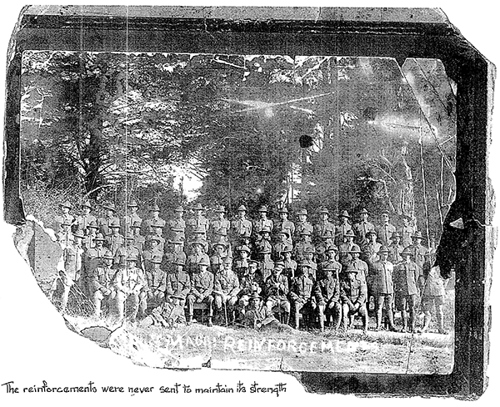 Māori Reinforcements including Jack Rickus, William Rickus' brother

Despite courageous fighting during the Gallipoli campaign, the Māori Contingent was split up and attached to other battalions in the New Zealand Infantry Brigade. Four of its officers were ordered back to New Zealand on the grounds of 'incompetency and cowardice'. It was a disappointing end to the Gallipoli campaign, and bitterness about the treatment of the men still lingers. Blame has centred on the commanding officer, Major General Sir Alexander Godley, for organisational ineptitude following the battle. In a private communication with James Allen, the Minister of Defence, Godley wrote 'the officering of them by Maoris of the class sent is quite a failure – they have no respect for them, and will not follow them, and these men have no authority over them'.
More recently, Gertrude wrote to the then Governor-General Sir Jerry Mateparae, and government ministers, Maggie Barry and Christopher Finlayson, asking for recognition of the bravery of her father and others during the Gallipoli campaign, and for the confusion surrounding the history of the Māori Contingent to be reexamined. In response, Minister Finlayson acknowledged Gertrude Warnes' desire for recognition of the men's service, and discussed the 'strong political response at the time' that led to the reformation of the Māori Contingent into the New Zealand Pioneer Battalion, Te Hokowhitu-a-Tū (the 70 twice-told warriors of the war god Tū).
Gertrude clearly remembers the impact war had on her father.
"When he came back he was mentally disturbed, I remember him saying that he had had to sleep amongst the bodies of his dead comrades. Maybe that is why I don't have too many good memories of Dad, he was very hard at times. I do remember him packing us off to different relatives. It's difficult for me when I look back over the years and I think what was the reason, why did they send us away? Probably thinking back to the hard heavy times they had to endure during the war...and to think that they were sent there to dig the bloody trenches..."

Of the 2,227 Māori soldiers who served in World War One, 336 died on active service and 724 were wounded. The scale of this sacrifice, coupled with General Sir Andrew Russell's assessment that 'they were worth any two of the other pioneer battalions on the whole front', supports the call for a reassessment of the role of the Māori Contingent in Gallipoli, and the treatment that they received from their Pākehā superiors.
For immediate whānau members wishing to have their own copy of the full video, please contact Whakapapa Ngāi Tahu on 0800 KAI TAHU (0800 524 8248).
View service records