Back to Memoirs
Pāpā Wallie
Walter (Wallie) William Barlow Wakefield
Walter William Barlow Wakefield, known as Wallie, was born on 4 June 1895 in Tuahiwi. He was the son of Maatakiwi, née Rickus and Harawira Korotipa, mokopuna of Eliza, née McQuillan and Tiemi Rickus, and Hana Piweta and Korotipa Wekepiri. Whānau history suggests Harawira changed the family name to Wakefield sometime after Wallie was born.
Wallie grew up in Tuahiwi before joining the circus. This took him all around the country before he finally settled in Levin. Wallie was a talented sportsman and was involved with football and boxing.
On 26 October 1915, Wallie enlisted for active service in Takapuna, Auckland and he left New Zealand aboard the Navua in February 1916 as part of the 3rd Māori Reinforcements.
Before his departure, Wallie met and married Pirihira Waikawa Sciascia, and he was able to take her to Christchurch to meet his parents before leaving the country. No doubt his departure would have been doubly hard as his new bride was pregnant with their first child.
Wallie disembarked the Navua at the Suez Canal on 15 March 1916 and spent a short time in Egypt before leaving for France as part of the New Zealand Pioneer Battalion. This unit was responsible for digging trenches in France, and it was in this role that Wallie spent most of his active service. This was a tough task with the main tools being a pick and spade and the men being under constant artillery fire. During this time he met his brother-in-law, Charles Sciascia, for the first time. Charles was part of the Wellington Regiment and he died in 1917 at Somme.
Records show that Wallie was admitted to hospitals in Boulogne, Hardelot and Etaples, but he was never seriously injured. Unused to authority, he had trouble adjusting to the structure of army life and this got him into trouble now and again. He was caught 'absent without leave' (AWOL) and on one occasion was involved in a skirmish with a senior officer. Records show that Wallie was sentenced to two years imprisonment with hard labour which meant he never went to the front line, probably ensuring his safe return home to New Zealand.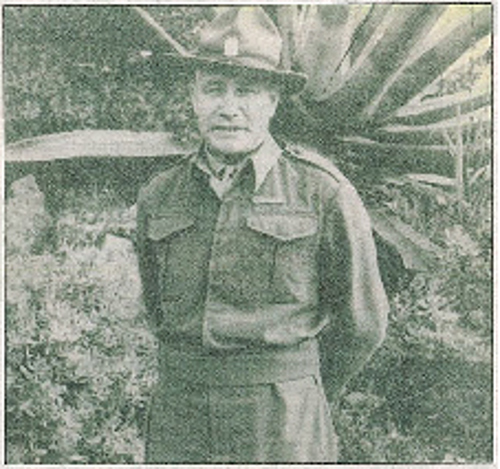 Above: Wallie Wakefield
After three and a half years in service, all but five of those months were spent overseas in Egypt, France and Belgium. Wallie returned home to Auckland aboard the Waimana on 23 June 1919.
After Wallie landed in Auckland it took him two years to return to his family in Levin. His daughter Norma was told that this was because he accompanied many of his fellow soldiers on their travels to ensure they got home safely, but more recently his grandson Anthony has uncovered evidence that he may have spent some time in the Māori prison in Auckland.
Upon his return to Levin he and Pirihira lived on the marae in Porangahau where Wallie was a highly respected member of the community. Norma says her father didn't like to talk about his time overseas.
Wallie enlisted once again when WWII broke out. According to his whānau, Wallie and Pirihira's son, Ian, was meant to sign up but Wallie went in his place. He served four years at Trentham but was under strict instructions from his wife not to go overseas again.
Wallie and Pirihira ran scrub-cutting gangs in Porangahau and the wider district before getting into shearing. Eventually they had their own shearing contracts, which they maintained until Wallie's death on 17 February, 1960.
Wallie's granddaughter, Mitarina Tipene, née Wakefield, says her Pāpā Wallie was interred in the Urupā at Porangahau, where he had served as a gravedigger for many years.
When Pāpā Wallie died, the kaumātua of Ngāti Kere asked if he could be buried in Porangahau but Nani [his wife] wanted him to go back south to be buried. His brother Jack went to Porangahau to get him and return him to Bluff but it was too late. Pāpā Wallie was already at the Urupā. Now the whānau are fourth generation living in Porangahau.
It is a testament to the love and respect Wallie's whānau held for him that they have researched and written their own comprehensive account of his military service. They have kindly permitted this document to be used as a reference for this biography.
For immediate whānau members wishing to have their own copy of the full video, please contact Whakapapa Ngāi Tahu on 0800 KAI TAHU (0800 524 8248).
View service records