Back to Memoirs
A secret lives on
Wiremu (Bill) Maopo
Wiremu (Bill) Kaihau Tanai Maopo was born on 17 March 1887. Bill was the son of Atarea Ta Maiharanui Maopo and Ani Wira (also Wera). The Maopo whānau was large but was also disproportionately stricken by illness and death: nine of Bill Maopo's siblings had died by the time he was 27 years old.

Bill enlisted for World War One on 29 June 1915, and headed north to Takapuna for training. He left Aotearoa aboard the Waitemata on 19 September 1915, arriving at Suez in late October.

In April 1916, the New Zealand Māori Pioneer Battalion left Egypt for France. Bill's service record shows that on 30 March 1917, he received a sentence of 14 days Field Punishment. However on 8 September that same year, just five months after his misdemeanour, Bill was promoted to the rank of Lance Corporal. He then served time in Flanders, Messines and Passchendaele.

While Bill was away he was fortunate enough to receive care packages from whānau and he wrote letters of thanks home for the various gifts of socks and mittens, cigarettes, soap, coffee, sugar and milk tablets, chewing gum, sweets, and chocolate.
"My mates couldn't be convinced for some time that the socks were hand knitted, being so completely made, and I am keeping them until the cold winter sets in before I wear them, such a lovely fit too."

Bill returned home to New Zealand aboard Marama, and arrived in Lyttelton on 24 September 1918 before being discharged on 22 November 1918, due to poor health after contracting pneumonia and developing pleurisy. Before his return journey, Bill had written the following letter home to whānau.
"Six weeks before I took ill I don't think I ever felt better in all my life… It was simply a cold I contracted… and it gradually took hold of me. It was sleeping out anywhere in the cold damp air which brought it on so quickly… by the time this reaches you, yours truly will be well on his way back to dear old New Zealand, never to roam anymore."
Bill died on 12 July 1929. At 43, he was still a young man; his early death a direct result of the ailments he had contracted during World War One.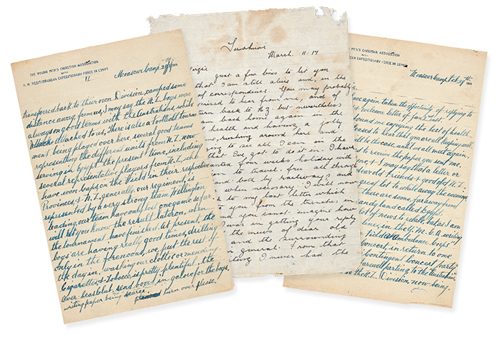 Wiremu Maopo's letters home 1916-1917.
A family secret

A bittersweet footnote to Bill's story is that he had left a legacy of which he was unaware.
Prior to leaving for war he had met and was courting a young woman called Phoebe Prentice. The relationship was controversial and for Phoebe's parents, who were a very religious couple, the notion of a racially mixed relationship was unacceptable.
After Bill left for Europe, Phoebe discovered that she was pregnant and the news was not warmly received by her family. Six months into her pregnancy, Phoebe's parents arranged for her to stay at the Bethany Home for unmarried mothers, run by the Salvation Army in Wellington.
Although Bill had regularly written to Phoebe while overseas, he was perturbed to receive no replies. Eventually, he resignedly noted that 'I don't think that Phoebe is troubling about me'.
However, it conspired that Phoebe's sister, Nell—acting upon her parents' strict instructions —intercepted and destroyed each letter as it arrived in the post.
Bill Maopo never saw Phoebe Prentice again, the war made sure of that and he never lived to discover he had a daughter called Marjorie. Even though he died without knowledge of their existence, Bill has three mokopuna and five great mokopuna who will ensure his endeavours are never forgotten.
View service records