Back to Memoirs
Letters from the trenches
Henare (Henry) Pohio
Born on 22 June 1893 in Tuahiwi, Henare Huru Pohio was the third child of Huru and Reita Pohio, née Korako Kelly, and mokopuna of Horomona and Hira Pohio, née Tau, and Hoani and Raihia Korako Kelly, née Hutai.
Henare was raised in the small Ngāi Tahu kāinga of Taumutu, nestled on the southern shores of Te Waihora, where he worked as a farm labourer prior to joining the army.
Henare enlisted for World War One in Tuahiwi, near Kaiapoi, on 12 October 1914, only months after the outbreak of war in Europe. He departed Aotearoa New Zealand for Egypt on 14 February 1915.
Henare served in the New Zealand Expeditionary Force (NZEF) landing on Gallipoli Peninsula in June 1915. He served with the infantry until evacuation in December and then proceeded to Egypt, later joining the Māori Pioneer Battalion in France until armistice, and then went on to Germany – eventually rising to the rank of Lieutenant.
Whānau have copies of the letters Henare wrote to his previous employer, Mr Fincham, which provide an insight into his war experience.
"They're very emotional," says his granddaughter Carol Hook about Henare's letters. "Some are written while he's actually lying in the trenches."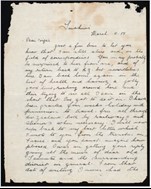 Henare Pohio's letter home, 1 August 1917.
Henare's service record shows he returned to New Zealand aboard the Arawa on 6 March 1917, before embarking for France aboard the Ulimaroa on 24 July the same year. He finally returned to Aotearoa aboard Pakeha, on 30 May 1919, after spending four years and 253 days in active service.


An intriguing postscript to Henare Pohio's story is the recent rediscovery of his Victory Medal by an 11-year-old boy named Jay Dreaver. Inscribed with Henare's name and regimental number, the medal was discovered among the bricks and mortar of a broken chimney. The chimney belonged to a house in Doyleston near Te Waihora in Canterbury. The Pohio whānau is currently investigating how and why Henare's medal ended up being placed behind chimney bricks in the Dreavers' whare in Doyleston.


Interestingly, Henare enlisted in World War Two, one of the few Ngāi Tahu men to do so and attained the rank of Captain. An ex-railway employee and widower, he served briefly in the ranks before being granted an honorary commission as a Māori Recruiting Officer, and together with several officers, was a member of the Māori War Effort Organisation. He was discharged from the New Zealand Army on 28 April 1946 and during his service he was awarded the 1914-15 Star, British War Medal and Victory medal.
Henare Huru Pohio died on 22 July 1949 aged 56, and was interred at Te Kai a Te Atua Urupā in Kaiapoi.


For immediate whānau members wishing to have their own copy of the full video, please contact Whakapapa Ngāi Tahu on 0800 KAI TAHU (0800 524 8248).
View service records