Back to Memoirs
A diary taonga for future generations
The Tynan Brothers
The three Tynan brothers, Andrew, Daniel and John all served in World War One. The brothers were the children of James Tynan and Mary Gilbert, and mokopuna of Marino and William Gilbert from Okains Bay, Banks Peninsula in Canterbury.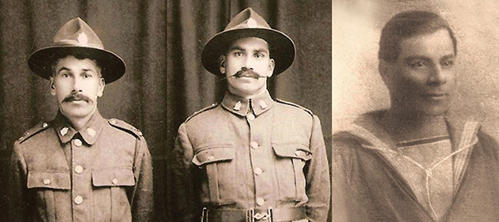 Andrew, Daniel and John Tynan.

Andrew, born on 17 August 1874, was the eldest of the brothers. Andrew's name was drawn from the conscription ballot and he joined the New Zealand Expeditionary Force (NZEF) in April 1917. At age 42 he was one of the more mature men to enter the army.
Daniel, born 25 June 1879, signed up voluntarily for the NZEF a month earlier than his older brother in February 1917. Prior to World War One, the pair had been living together in the Waikato region, breaking in their farm at Te Anga, near Te Kuiti. Andrew and Daniel left Frankton Junction, bound for training camp, on 29 May 1917. Following completion of their military training, the brothers left New Zealand together aboard Mokoia, on 13 August 1917.
Like many men who went to war, Andrew kept a detailed diary, and it makes regular mention of his brother Daniel, who served in a separate unit but was stationed in the same region of France. Recording the poor living conditions, lack of food, constant shelling and the wounding and deaths of his fellow soldiers, Andrew Tynan's writing paints a realistic and grim picture of the war. Here are some excerpts taken directly from his diary:
Saturday 27 October
Marching order 2pm boarded boat at 3pm let line go by 5-30pm. 2 shots fired from torpedo boat not more than 5 mins after left pier.
Arrived at Boulogne in France about 9pm. Marched about 2 miles to rest camp for the night.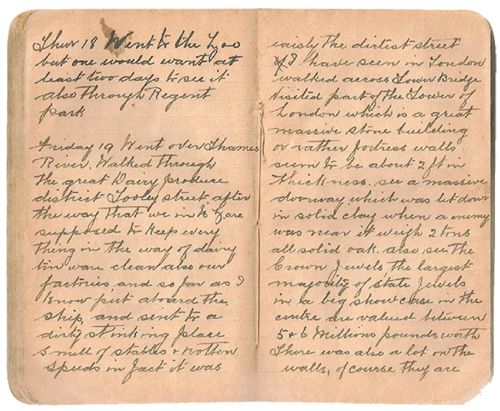 Andrew Tynan's diary.

Monday 26 November
Reveille 5-30, left camp at Ouderdom with full marching order, arrived at Hell Fire corner at 11-30 just had lunch and Fritz started shelling.
28 November
Fritz was using HE shells and shrapnel freely over both sides of the road. We only took one load up, the whole roadway was lined with broken wagons and dead horses. We walked back through Ypres which before the war had over 50,000 people.
At present it is nothing but a heap of ruins; not a sound place to be seen in it.
30 November
On the same job, Fritzy giving the duck boards the devil this morning. Killed 3 horses and 4 men, they were lying on the roadside.
The more I see of his big shells the less I like them. Two of the above were Maori and one white NZ.
According to Andrew's diary, the men had a mild reprieve on Christmas Day 1917.
Dan and I had to attend church service. In the afternoon both of us was a guard to two of our... Awaiting sentence.
At night had dinner laid on in a big shed, about 60 of us present, about 120 men away with tunnellers. Menu plenty of poultry, spuds, cabbage, ham, apples, smokes, lollies and beer.
In May 1918, Andrew was hospitalised in the No. 2 General Hospital at Walton-on-Thames in England, and later returned to New Zealand in November 1918. Daniel returned home to New Zealand just three months later in February 1919.
On their return to New Zealand, the two brothers rejoined at their farm in Te Kuiti, where Daniel became a successful breeder of Polled Herefords. Before Daniel died in 1970, he bequeathed a sum of money to the Te Kuiti Council for the betterment of Te Kuiti, on behalf of both himself and Andrew, who had passed away four years earlier, in 1966. The Tynan Trust remains active today, with the money being used to fund activities that enhance Te Kuiti.
Andrew and Daniel's younger brother, John, was born on 16 February 1891 in Okains Bay. John was living in England and working on Union Steamship Company troopships when he enlisted for World War One. He served with the Royal Navy from May 1917 until November 1920. John was a leading stoker on minesweepers with the Royal Navy's Merchant Marine Reserves. An account from that time said two of the minesweepers John was on were torpedoed, and on one occasion he managed to survive the very cold water for some time.
John met his future wife, Phoebe Jacobs, while living in England. Although John and Phoebe were separated when he returned to New Zealand in January 1920, John and his parents sponsored Phoebe's entire family – her father, pregnant mother and ten siblings – to emigrate to New Zealand. John and Phoebe went on to have eight children of their own: Andrew; Doris; Phoebe; John; Kathleen; Frances; Mary and James. John died of a severe stroke in 1951, aged 59. He is buried in the Hamilton East Soldiers' Urupā.
View service records